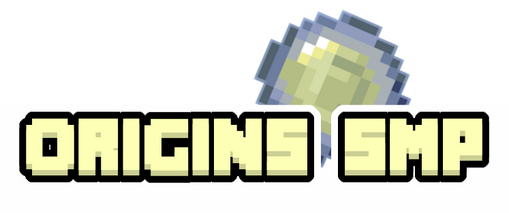 Here you can find useful information about the Origins SMP, its members, and their special abilities! As all pages and edits are fan-made, feel free to contact us with any inquires or suggestions. This is a community-driven site that anyone can contribute to, including you!

The Origins SMP is a private, modded survival multiplayer Minecraft server (SMP) founded by Wilbur Soot and TommyInnit. It is currently being played on by a group of Minecraft content creators, many of which are renowned for their roles on the Dream SMP. It uses the Origins mod, which gives each player unique abilities.
Livestreams, VODs, and server highlights can be found on Twitch and YouTube.
Members
Main article: Members
Character
Skin
Origin
Creator
IGN
Date Joined
Wilbur
Phantom

Wilbur Soot
WilburSoot
February 11, 2021
Tommy
Avian
Tommyinnit
TommyInnit
February 11, 2021
Niki
Merling
Nihachu
Nihachu
February 11, 2021
Ranboo
Enderian
Ranboo
Ranboo
February 11, 2021
Tubbo
Bumblebee
Tubbo
Tubbo_
February 11, 2021
Philza
Elytrian
Philza
Ph1LzA
February 11, 2021
Jack
Blazeborn
Jack Manifold
JackManifoldTV
February 11, 2021
Jschlatt


Fragrance Man

Arachnid
Jschlatt
jschlatt


FragranceMan

February 11, 2021
Charlie
Slimecican
Slimecicle
Slimecicle
February 22, 2021
Sneegsnag
Inchling
Sneegsnag
Sneegsnag
April 14, 2021
Smajor
Starborne
Scott Smajor
Smajor1995
April 14, 2021
Technoblade
Human
Technoblade
Technoblade
April 14, 2021
Fundy
Fox
Fundy
ItsFundy
April 15, 2021
Quackity
N/A
Quackity
Quackity
Whitelisted
Getting started

Community
We have a Discord server! Join here: https://discord.gg/bAXs35m3KU

Disclaimer
We are not affiliated, associated, authorized, endorsed by, or in any way officially connected with the Origins SMP or any of its members.


Community content is available under
CC-BY-SA
unless otherwise noted.